The Chinese had been using natural gas for thousands of years to heat and light their workshops. In Europe however, gas was only known as a lab curiosity but wasn't used until the gas industry was developed in late 18th century. Pit-coal was heated in retorts to obtain some burnable gas called coal-gas or town-gas. This process yielded by-products such as coke, sulfamides, artificial colorings, tar, etc. Coal-gas contained mainly carbon monoxide and hydrogen, but also benzole, which gave gas its illuminating power. Early burners used the light produced by gas itself. Later, after incandescent burners were introduced from 1885 on, benzole could be removed from gas and used to synthetize explosives. Incandescent burners use only the calorific power of gas, produce a hot blue flame and make glow the mantle made of a mixture of thorium and cerium.
Today, natural gas (mainly methane) replaced almost everywhere coal gas. Bottled butane and propane are also used in remote dwellings and mobile lighting apparatus.
Acetylene is produced in special lamps or small plants through the reaction of calcium carbide with water. The burners are of the same types used for coal-gas, but in special versions.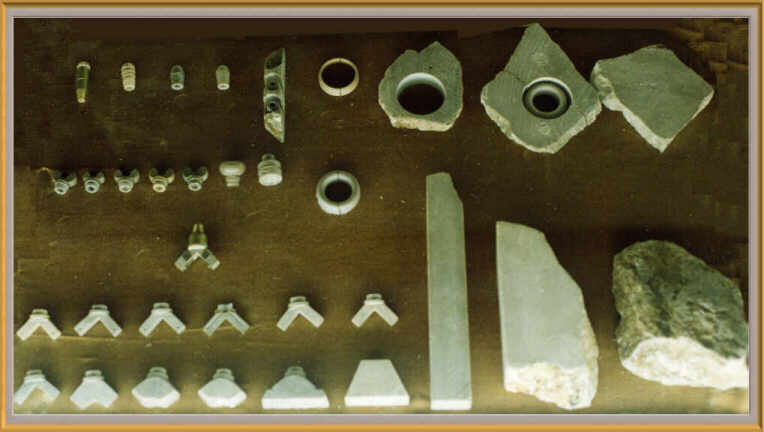 Different steps in manufacturing steatite-burners for gas or acetylene.
Display in the Techniques-Museum Vienna (Austria).